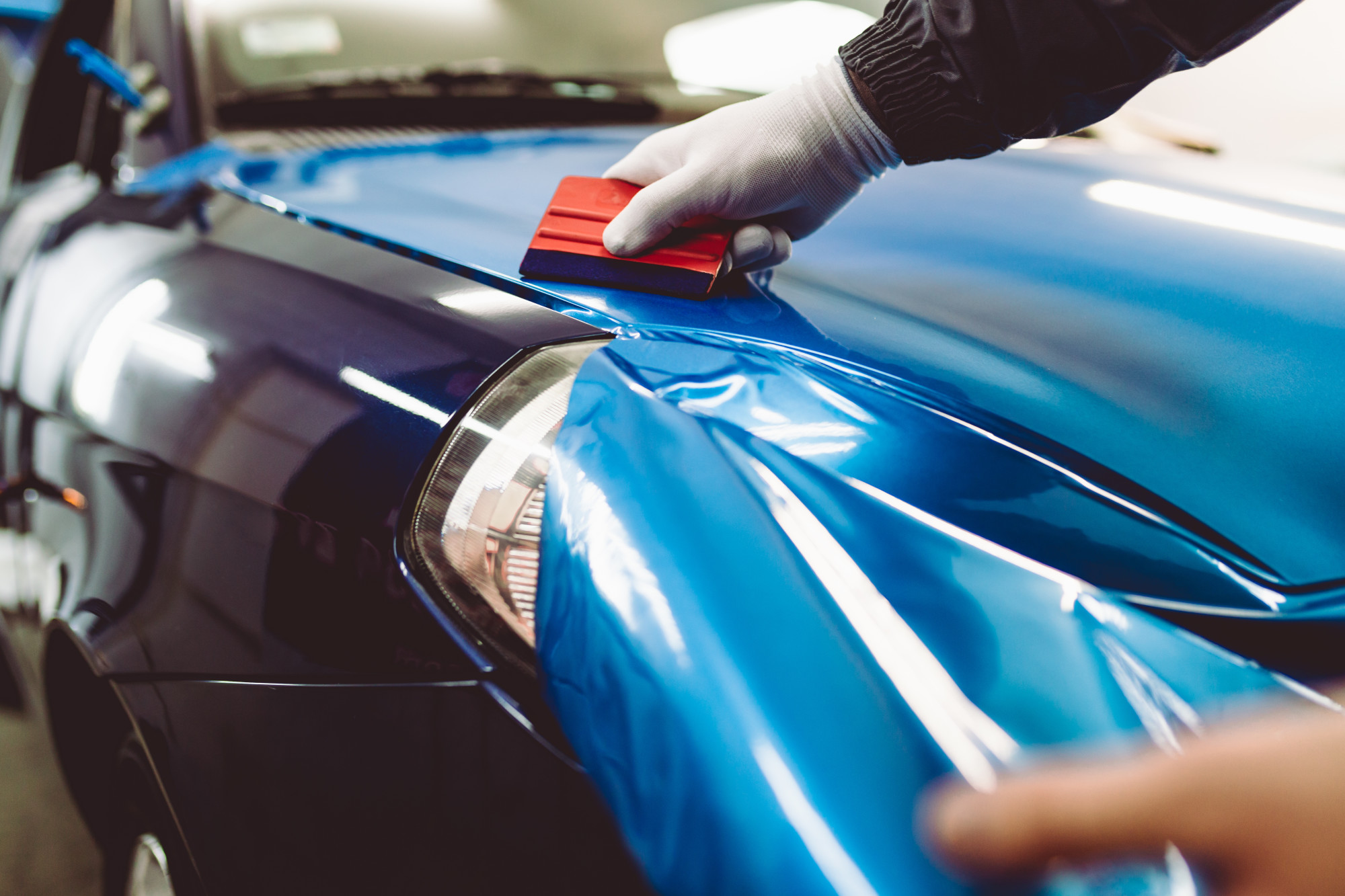 Everywhere we go there're adverts. They're on billboards, on buses, on big LED screens.
Why? The simple answer is that they're effective.
We're influenced by what we see, even if we don't realize it at first. For this reason, many businesses use their vehicles to advertise their product or services. You can wrap your car with your product logo or whatever promotional material you want to use.
In this article, we're going to take you through 9 reasons to wrap your car. You will see that this innovative approach is incredibly flexible and has a multitude of applications and benefits.
1. Bottom Line – Cost
To paint your car in a way that you would be proud of will be expensive. It could cost anything up to $10,000. In contrast, vinyl wrapping is significantly cheaper. 
A vinyl wrap will cost between $500 and $3000. The price is dependent on many factors, one of which is the size of your vehicle. The good thing about a vinyl wrap is that the logo or design you want can be easily scaled to suit any vehicle.
2. Longterm Asset Value
Your vehicle or even vehicles are a major part of your assets in the business. Depending on the financial model you use to acquire those cars, you will want to sell them on at some point and replace them with new vehicles.
The resale value of those vehicles will be critical capital you can re-invest in your new vehicles. Re-spraying your vehicles will likely diminish their value. A vinyl wrap will save you re-spraying your vehicle and also protect the existing paint. 
So when you're ready you can easily remove the vinyl wrap and sell your vehicle on knowing that the outside paintwork will still be in very good condition.
3. Vinyl On Vinyl Off
An excellent advantage of vinyl is that it is easily removed should you want to take it off and replace it. That means you can run different marketing campaigns using your vehicle and not worry about an expensive re-spray.
If you decide you need to re-design the company image and even go through a re-brand you don't need to be overly concerned about the vehicles. You can easily update them.
4. Wrap Your Car for Higher ROI
A brief 30 second TV commercial will set you back about $100,000. Of course, not every business will want to advertise on TV. Yet, the general principle is that the wider the audience the more expensive the marketing space.
Relatively low investment in marketing through your vehicle's vinyl wrap will offer you a far better return on your investment. That is especially true when you haven't got $100,000 to blow on 30 seconds of fame.
5. Mobile Shop Front
It is always wise to follow the ideas and inspiration of great business forefathers. For example, Milton Hershey, father of Hershey's chocolate, was one of the first to use his vehicles as mobile advertisements, back in the 1900s.
If it is good for Hershey, surely it is good for your business. No doubt Milton Hershey would have been very interested in vinyl wraps. Take a leaf out of his book of success and use your vehicles to advertise your business by using a vinyl wrap.
6. Precision Graphics
Vinyl is an excellent material on which you can print high precision graphics. That allows you to use eye-popping images and brilliant colors to grab and captivate attention. You want people to remember they saw your vehicle passing.
Vinyl is especially good for text. Crisp, clean, and easy to read writing is vital for effective advertisements that people can actually read and note. 
7. Durability – Wax Job Not Needed
Keeping your vehicle, or fleet of vehicles, clean is an important part of your company's professional image. Plus, if you want people to see your advertisement clearly, then your vehicle must be clean. Keeping paint clean takes time and effort and can be expensive when you wax and polish the vehicle.
In contrast, there is no need to wax vinyl. It has its own surface quality and all it needs is soap and water. That makes cleaning, easy, and cost-effective. If you're cleaning your vinyl wrap, note these five rules to make your wrap last as long as possible.
8. Scalable Option
If you have a fleet of vehicles, you will want to make sure the graphics and quality of the images on all of them are exactly the same. Vinyl wrapping is a method that can be replicated on all your vehicles using the same image quality.
It doesn't matter if you have a few vehicles or hundreds, the final product will be the same. So consider vinyl wrapping as an excellent scalable option with solid quality control.
9. Less Downtime Than Paint
To spray a vehicle is a timely endeavor. To spray many vehicles takes even longer. 
All the time your vehicles aren't on the road you are losing money. You want the vehicle downtime to be as short as reasonably possible without diminishing the quality of the work being done.
Instead of taking weeks to finish, vinyl wrapping can be completed within a few days or a week. That means your vehicles will be back doing what they need to do as quickly as possible. 
Time to Wrap It Up?
In this article, you have read about 9 reasons to wrap your car. Before reading this article, you may never have considered this before. Now though, you can see the advantages and the flexibility of this brilliant option.
If you're uncertain, you could consider experimenting with one vehicle first, using a smaller logo or advertisement, and see how it goes. That is the beauty of a vinyl wrap. Check out other motor articles that fit with your interest on our site.