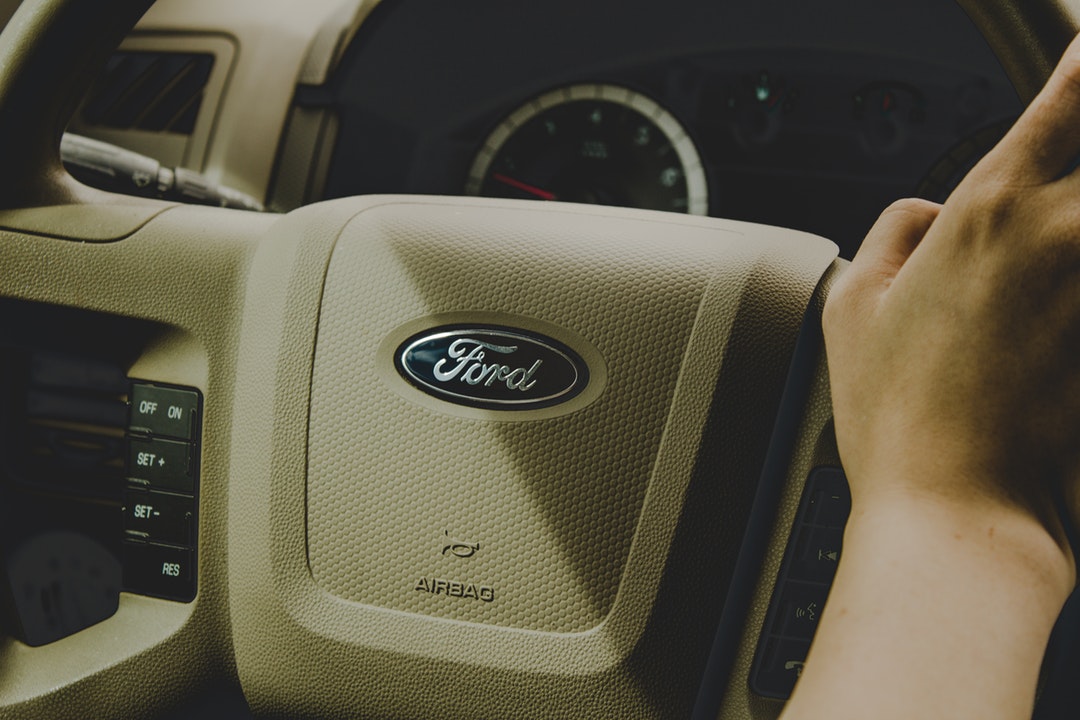 Though Ford is already boasting the best selling truck in the USA and remains the best selling manufacturer in the country… that's just not enough for the automotive powerhouse.
The manufacturer has their sights firmly set on 2021 as another record-breaking year, with a lineup of new Ford models, featuring a couple of ponies – and a bronco to boot. To say we're excited would be a serious understatement.
New Ford Crossover Models
Is it a bird? Is it a plane? No, it's a crossover…
2021 Ford Mustang Mach-E
Easily the most controversial electric car going, the Mustang Mach-E is the dawn of a new day for Ford. The first four-door car and SUV to sport the pony badge, the Mach-E is expected to be the next contender to Tesla. 
As an SUV crossover, no, the Mach-E doesn't look just like a Mustang. But you'll find hints of its heritage in its design. Malevolent headlights sit upon a long hood that flows onto broad rear haunches, bedazzled with the iconic three-bar taillight. 
The Mach-E comes with two battery choices to meet your needs – standard or extended range, and all models come with the option of rear-wheel or all-wheel-drive. The standard range will offer you 266 horsepower and a targeted EPA estimate of 230 miles. The extended range offers a quietly impressive 346 horsepower for all-wheel-drive and a targeted EPA of 270 miles, or 300 miles for rear-wheel models.
The 0 to 60mph times vary depending on powertrain choices, but you'll hit 0 to 60mph somewhere between an impressive 4.8 seconds or a satisfactory 6.1 seconds. For the Mach-E GT model, rumor has it the 0 to 60mph acceleration will be somewhere in the mid 3-second range. 
The Mach-E comes with a DC fast-charging port, which is capable of charging from 10% to 80% in 45 minutes or less. It also offers home charging with 120-volt or 240-volt outlets.
All Mach-E models come with 3 different drive modes with fittingly equine roots – Whisper, Engaged and Unbridled. Each offers tweaks to engine noise, steering, and pedal feel. As an all-electric vehicle, it's worth noting the car actually produces no engine noise, so Ford has cunningly pumped in some of their best hits from their V8 classics, which vary depending on drive mode.
If it wasn't obvious, we're seriously excited about this car, and you should be too. Models start from $42,895 MSRP excluding federal tax incentives.
2021 Ford Escape
Attempting to stand out in a seriously overcrowded category, the 2021 Ford Escape has undergone some serious housekeeping to make it a real contender in its class. 
The 2021 model actually looks more similar to a passenger car than a crossover. This is despite it losing 200 pounds, even though it's actually grown in weight and width a touch for the new year. The Escape has a variety of engines depending on the trim but offers an economic 1.5L turbocharged 3 cylinder engine with a modest 181 horsepower. 
One of the main selling points for the Ford Escape is that you couldn't get a safer, and more affordable, family vehicle. The base model now comes with the Ford Co-Pilot 360 Suite of active safety technology. These include automatic high beams, active lane control, blind-spot monitors, and automatic emergency braking to name just a few. 
Though it's not going to get your heart racing, the 2021 Ford Escape is a real contender in its market. Especially with prices starting from just under $25,000.
New Ford SUV Models
Ford has added some great updates to existing SUV models for 2021. As well as introducing a revamp on a seriously pined after classic…
2021 Ford Bronco
Back by popular demand, the rugged little SUV that can – the new Ford Bronco. The Bronco might be the most highly anticipated SUV for 2021, judging by the fact the First Edition model reservations are already full. 
If you're worried a world of emissions regulations and electrification might have softened this young foal, don't be. The 2021 Bronco has been tested in both the Johnson Valley Desert and on the brutal Baja 1000. The engine is a robust 2.7L EcoBoost, offering 310 horsepower and 400lb of torque to get you through any terrain.
Ford has created an incredible range of models, each designed around a different type of off-roading adventure, from mainstream off-roading through to high-speed off-roading. All models boast an impressive departure angle of 37.2-degrees, a 29-degree breakover angle, and a 43.2-degree approach angle. The ground clearance is 11.6 inches, alongside a water fording capability of 33.5 inches. 
All models come with a terrain management system with G.O.A.T modes (Goes Over Any Terrain). There are five drive modes on base models including sand, slippery, sport, eco, and normal. For more extreme models, you'll see drive modes like mud, ruts, and rock crawl appearing. 
As with all the best off-roading vehicles, the Bronco lets you stay as close to nature as you'd like to with a soft top removable roof as standard, and optional removable doors.
In our opinion, the 25-year wait is well worth it for this renovated old school beast. Deliveries are targeted for June 2021 and base models start at $29,995 for the 2 door model. 
2021 Ford Explorer
Once a hit across the nation, the 2021 Explorer is a much needed update on the SUV. This is thanks, in part, to the new CD6 platform, shared with the Lincoln Aviator.
The 2021 edition is 200 pounds lighter and boasts more interior space. The base engine is a 2.3L turbocharged 4 cylinder engine, offering up 300 horsepower, or higher trims offer a 3L twin-turbo V6 engine. 
Though it's more of an evolution than a revolution on the range, the new Ford Explorer looks like it could be a real contender for the mid-sized, three-row vehicle category. Additionally offering great value, with prices starting from $38,000.
New Ford Truck Models
Known for their hardiness, durability, and towing capabilities – 2021 looks to continue this trend for Ford. Updates include an expansion of the Ford Ranger models, as well as an overhaul of the best selling F-150.
2021 F-150 Truck
Currently one of the best selling truck ranges in the USA, these light-duty trucks remain a firm favorite in our eyes for their style and capabilities. 
There's a little more space in the 2021 F-150, as well as some comprehensive updates to the technology included at the base level. This includes driver's aid systems like intelligent adaptive cruise control, blind-spot information system with trailer coverage, and voice-activated sat nav to name a few. 
There's also a brand new PowerBoost full hybrid engine available, combining the best of electric and gas. The 3.5L V6 engine offers 430 horsepower and 570 torque. Towing capacity is yet to be officially confirmed but is believed to be a class-leading 13,200 pounds. 
Prices are also yet to be confirmed, but it's believed the new F-150 will remain under $30,000 for base models. 
2021 Ford Ranger
There's no overhaul to the Ford Ranger series, but Ford is introducing an intimidatingly named Tremor model. 
The Tremor model is cited as being an off-road Ford Ranger model. It includes chunkier tires, 32-inch Continental Grabber all-terrain tires to be precise. To accommodate these tires, the Tremor has an additional inch of ground clearance compared to the rest of the Ranger pickups. 
That's not all they've changed. The suspension system is revised, with new front and rear components and heavy-duty hardware like FOX shocks. There are also auxiliary switches to power accessories like compressors and light bars. 
Ford hasn't yet announced many more details, or much in the way of pricing. The cost for the Tremor package is $4,290 if added to one of the premium Ranger XLT models, but we don't yet know how much these will cost for 2021. 
Other New Ford Models
All good things must come to an end, though that isn't to say Ford hasn't got a couple of tricks left up their sleeve. Petrolheads rejoice, there's one final contender to the 2021 Ford model lineup left…
2021 Ford Mustang Mach 1
It's been a long 16 years since we've seen an addition to the Mustang Mach 1, but the fifth generation has finally arrived.
The details remain minimal currently. We do know there's a 5L V8 engine under the hood, offering up 480 horsepower, as well as a 6-speed manual transmission or a 10-speed automatic transmission. 
For more details on where to order any of the new Ford models listed, make sure to contact your local and best Ford dealers to find out about prices, delivery charges, and more. 
Here's to the New Year
With such a tumultuous 2020, it's a breath of fresh air to look forward to the new Ford models coming next year. For a blast from the past, try our article on Ford then and now to see just how much the manufacturer has come along in the last century.