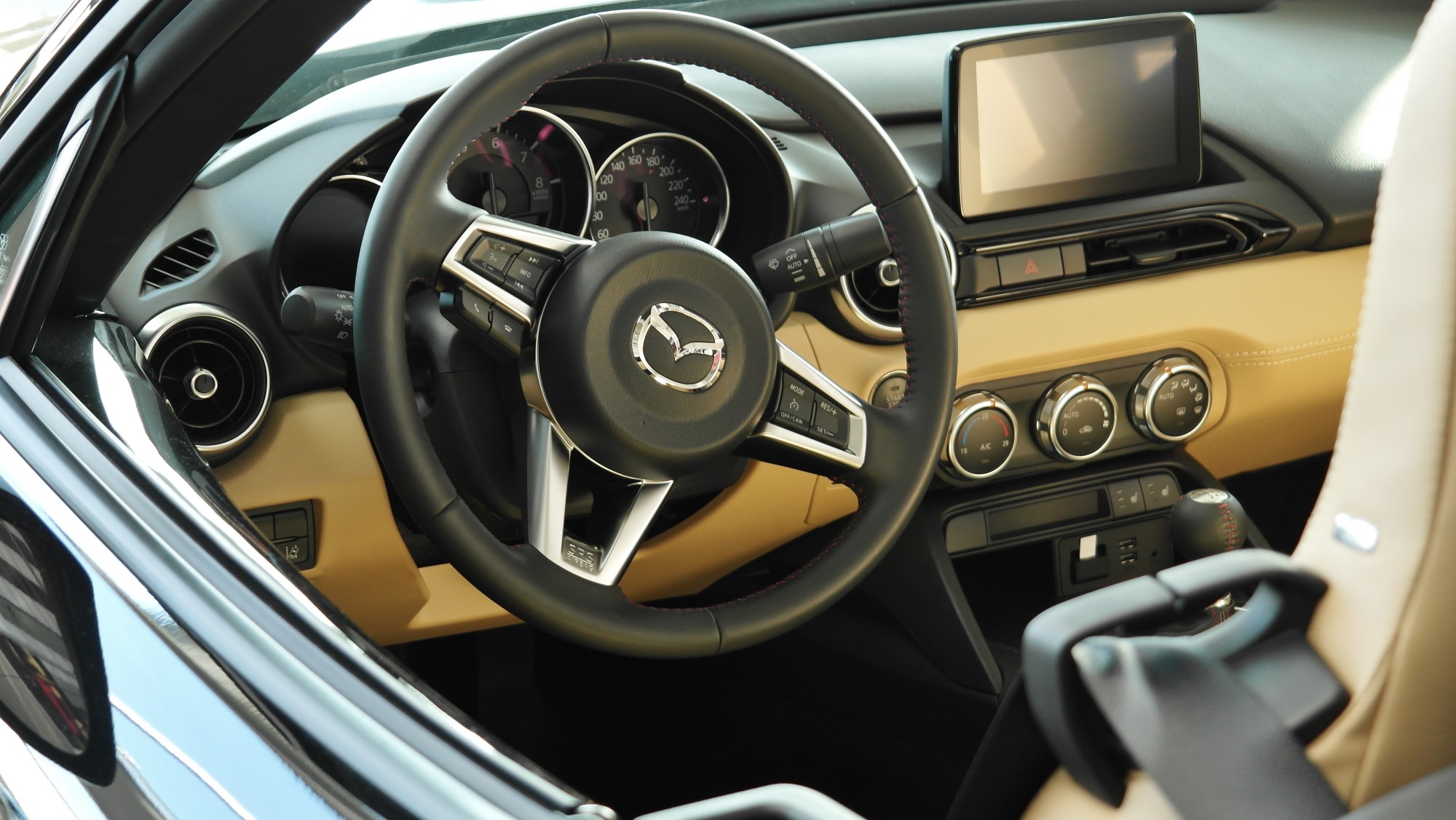 Mazda sold over 300,000 vehicles in 2018. So what do all of these car buyers know that you don't? Mazda tends to fly under the radar for most people since the manufacturer doesn't build any trucks, which happen to be the most popular car model in the US. 
However, the lineup of vehicles they do produce is an impressive one. So why not consider buying one for your next vehicle? 
We are going to go over the different models in the lineup and answer the question, are Mazdas good cars?
The Zoom Zoom Appeal 
Mazdas are not for everyone, and the company is ok with that. The slogan "zoom-zoom" is a perfect embodiment of the brand. They produce sporty cars that are all about design and the enjoyment of the drive. 
The typical Mazda driver is well educated, higher income, and genuinely enjoy driving. They appreciate design aesthetics and are willing to pay a little extra for a well-built machine. 
Are Mazdas Good Cars?
Because Mazda focuses on this smaller subset of the American market, they can focus on producing a quality vehicle that is what their drivers want.
This enables them to produce reliable cars and have Mazda rank in the top of Consumer Reports reliability rankings. Mazda comes in behind Lexus and Toyota as the third most reliable major car brand. 
How Are Mazdas so Reliable?
One general rule of thumb for cars is, the more affordable the vehicle is to fix, the more reliable the car. Since Mazdas are affordable, they have a high-reliability score. 
The parts that are used to produce Mazdas are affordable and accessible to source and replace. This also means that the car is out of commission for less time, making them on the road more and therefore more reliable. 
A great example of this is for Mazda Miata parts, there are plenty of replacement parts available, and they are incredibly affordable. 
CX-5
This is the compact SUV model of the lineup. It features a sensible design but also has impressive styling on the interior. 
Drivers will appreciate the enjoyable driving dynamic. Up until 2019, the CX-5 had a 2.5 liter 4 cylinder engine that produced 187 horsepower. However, the 2019 model will have a nice upgrade to a 250 horsepower turbocharged engine. 
The engine isn't the only part that got a significant improvement for 2019. Mazda outdid themselves with the Signature model. 
This car features ambient interior lighting, wood and chrome accenting, exclusive exterior detailing, and brown leather upholstery. There is also a complete 360-degree camera system that features both front and rear parking sensors. 
Mazda3
This is one of Mazda's most well-known and popular models. Buyers have the option of a hatchback or sedan design. You'll immediately notice that modern Mazda3s have an attractive curvy yet sharp exterior design. 
Then the car will continue to impress with the optional Skyactiv-X engine. It will produce 30% better fuel economy than its traditional engine peers. 
Everything you could want comes in the new Mazda3. This includes luxuries like leather-wrapped sport seats. Then there is the nicely sized 8.8-inch infotainment display that is perfectly positioned on the sleek dashboard. 
The system is user-friendly and compatible with Apple CarPlay and Android Auto. Then it is paired with a 12 speaker Bose stereo system. 
For safety features, there is automatic emergency braking, lane assist, and adaptive cruise control. 
CX-9
In response to the shrinking sedan market, there is the CX-9 model. It is a three-row crossover. Back in 2016, Mazda gave the CX-9 a complete makeover. 
This is the perfect solution for families. It gives you the functionality and space of other crossovers. It also is a bit more upscale than other similar options such as the Toyota Highlander or the Honda Pilot. 
Despite being a crossover, it still offers the sporty driving experience that you get with their cars. It has the same turbocharged 2-liter 4 cylinder engine that comes in the Mazda6 and CX-5. 
Signature Trim 
We mentioned a more upscale feel to the CX-9, this is in thanks to the Signature Trim package. It features elegant touches such as Nappa leather, UltraSuede, aluminum interior accents, and a unique "Sen" wood trim. 
CX-30 
Another SUV for the Mazda lineup, the CX-30 fits neatly between the CX-3 and the CX-5. This car isn't quite available yet but is on the horizon for a 2020 debut. One important point for Mazda was the unique styling of this model. They wanted it to have a distinct look from the other SUVs in the lineup. 
This was accomplished by adding chunky black plastic body panels and a forward-cantered rear window. 
In keeping with Mazda's history, the CX-30 share many under the hood components with other models in the lineup. So a 2.5 liter 4 cylinder engine shouldn't be a surprise. 
You will find the same quality and attention to detail in this model as with others produced by Mazda. There is a large infotainment screen with the easy to use control dial. 
You have your choice of an 8 or 12 speaker system. Then there is the entire suite of driver-assist features. 
MX-5 Miata 
This car is for the driver who truly enjoys the experience of getting behind the wheel and mastering the roads. It strips away all of the weight and complications of modern technological complications. 
What you are left with is a sporty rear-wheel-drive car with a rev-happy engine. The sharp shifting of the manual transmission will give you a refreshingly, playful feel to the performance. 
You have an option of choosing either the classic soft-top or the retractable targa top. The interior isn't practical with little cargo space, but that isn't why you buy this car. 
You buy this car for the back to basics focus on performance, handling, and the enjoyment of a sports car. 
Will You Get a Mazda? 
So now that you are more familiar with Mazda and their models, you shouldn't wonder, are Mazdas good cars? Mazda focuses on building high-quality and reliable vehicles. 
They design vehicles for you to form an emotional connection with. You'll experience what it is like to enjoy driving, all while in a comfortable and spacious interior. 
Be sure to check out our blog home for more useful advice on everything from car buying to maintenance.