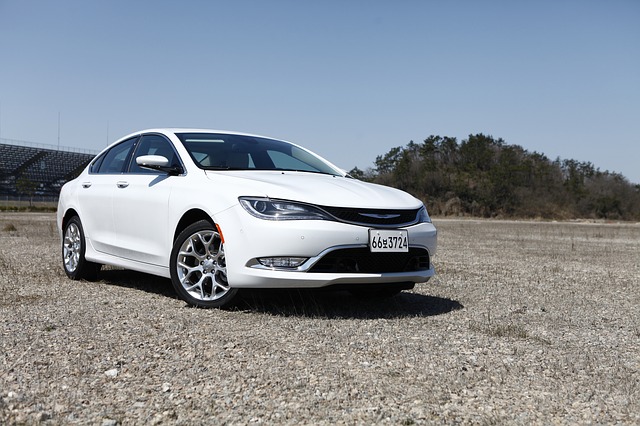 Fast cars and freedom isn't just the name of a country song — it's the way Chrysler has been creating vehicles for a lifetime.
From their humble beginnings in the early 1900s to their acquisition of Dodge and a long history of iconic cars, the company's lineup offers a wealth of vehicles to choose from.
Yet no list of the best Chrysler vehicles of all time is complete without these 7 cars, ranging from early models to modern-day beauties. Take a look!
1. Chrysler Town and Country
The iconic minivan we know today looked very different when it made its debut in 1941.
The vehicle was a station wagon, rather than a van, complete with wooden exterior detailing and the bubble fenders of the decade. Often referred to as a "barrel back" for the styling, the car actually seated nine passengers, even more than a modern minivan does.
Through the years it also became available as a convertible, along with other variations on the model.
It wasn't until 1989 that the company introduced the minivan under the same name, proudly holding the place until 2017 when Chrysler renamed their minivan the Pacifica.
Because of its long run, the Town and Country is one of the most memorable Chrysler models of all time. While no longer in production, the historic lineup wouldn't be complete without this vehicle.
2. Chrysler 300
Another recognizable model that actually had its start many years ago is the Chrysler 300, first introduced as the C-300 way back in 1955.
It was a racing car for a while, with a powerful engine that represented the company in NASCAR races. Unfortunately, the market for a race car wasn't very strong, so Americans weren't interested in buying one for their family car.
The company brought back the car, whose initial production ended ten years after it began, and gave it new life in 2004.
It's now a luxury model, briefly marketed under the name Lancia Thema. Its second run is also coming to an end, in favor of an electric vehicle, the Portal, set to debut in 2020.
3. Chrysler PT Cruiser
Besides its penchant for making small children hit each other in the backseat and yell, "PT Cruiser bruiser!", this model was iconic for its distinct retro styling.
The vehicle was produced from 2000-2010, inspiring other vehicle designs to go retro, like the Chevy HHR.
The 4-cylinder had a few surprises up its sleeve during the ten-year run, from a convertible to a turbocharged version. It even had the option to buy a model with wooden detailing like the original Town and Country station wagon.
This drove the nostalgia up, although the engine specs weren't all that impressive. 
4. Chrysler Crossfire
If you do a search for "Chrysler dealership near me," you won't find this model listed in the current lineup anymore.
It had a great run from 2004-2008, a beautiful two-seater sports car that also got released as a roadster with a convertible top.
Even though the coupe isn't in production anymore, it's still a stylish model worth a spot on the list of top Chryslers of all time. The standard model was a 6-speed manual transmission, with an engine similar to the Mercedes SLK-Class.
5. Dodge Viper
A list of best Chrysler products wouldn't be right without some Dodge models.
Chrysler bought the brand in the 1920s, and some of the best American vehicles have come from the merger, including the Viper.
From 1991 to 2017, which includes a short hiatus in production, the sports car graced the streets and race tracks with its presence, even competing in the 24 Hours of Le Mans. It had a major redesign in the early 2000s, pushing the style rearward with a much longer hood.
The vehicle even inspired its own TV series with an impressive 4-year run.
The series follows a futuristic task force based in California, fighting crime with their special vehicle The Defender, designed to look like a Dodge Viper for camouflage. It's a credit to the vehicle's sexy body design and attractive style that it could inspire a show like that to continue as long as it did.
6. Chrysler Prowler
Another retro vehicle, where Chrysler seems to get all its good ideas, the Prowler began as a Plymouth.
The most modern hot-rod-style vehicle of its day, it featured standard cabin necessities that you'd find in a daily driver, making it practical as well as pretty.
When the company discontinued the entire Plymouth brand in 2001, they were loath to get rid of this beautiful model.
Instead, they kept producing it for another two years, giving it a Chrysler name plate. Only around 11,000 of these vehicles ever came from the Detroit, Michigan, factory, and about a third of those were Chryslers.
7. The Best Chrysler Is a Dodge
A Dodge Charger, that is.
In all automobile history, this vehicle is arguably the most iconic representation of American muscle. The powerful vehicle was featured on the classic show Dukes of Hazzard, even earning its own nickname, The General.
That model was a 1969 Charger, but the first model was made in 1964. It became available for the public in 1966, enjoying several redesigns until its discontinuation in 1987. Fortunately for fans of classic cars, Chrysler brought back the beloved model in 2006, and it's still available today.
Features include a Hellcat engine and standard 8-speed transmission in the automatic V8. The modern Charger somewhat resembles the Dodge Challenger, another muscle car created to compete with the Chevy Camaro.
Historic or Modern?
Whether you find historic Chrysler models are your favorite, or you'd rather buy a modern vehicle as the best Chrysler available, this company's rich history gives you a lot to choose from.
From its 1940s-era Town and Country to the sleek Dodge Viper, Chrysler's car lineup is full of classic autos.
Did you like this article? Explore some of our other posts to find out more!