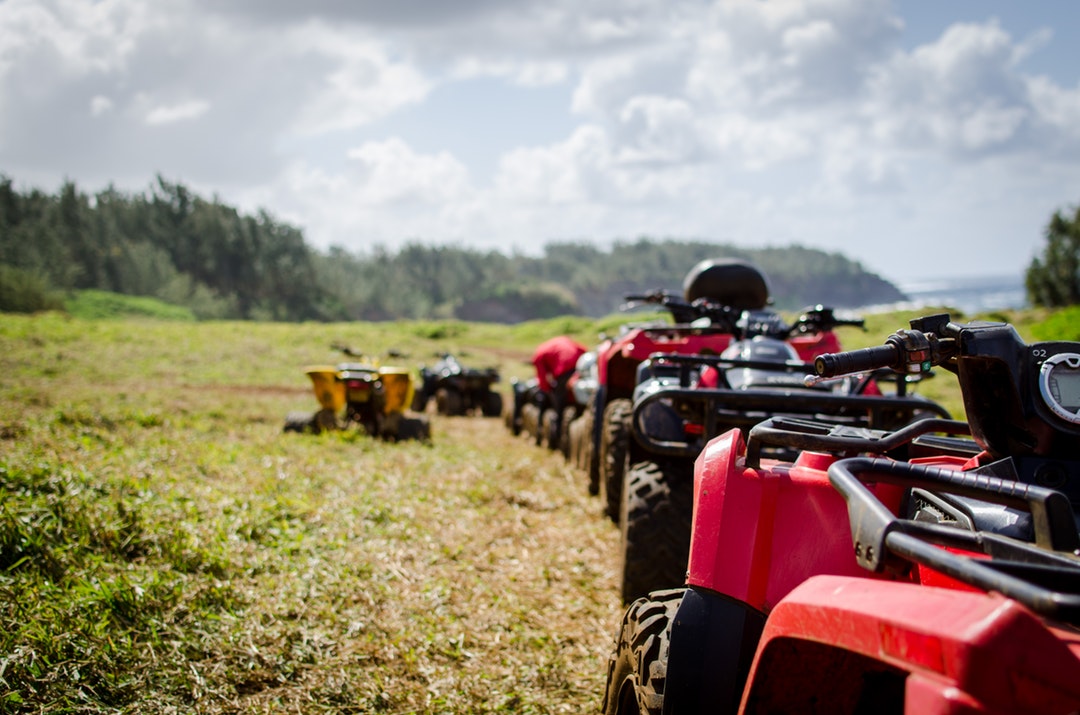 Want to catch air on the trail? Need to haul feed to livestock in the last field on the farm? Have to get to your favorite hunting spot early? You need a four-wheeler.
But deciding which one you need from the different types of four wheelers on the market isn't as easy as it might seem. There are so many different models on the market now that picking the right one means you need some knowledge.
From hardcore sport ATVs to family-friendly side-by-sides, the world of four-wheelers is changing.
Engines are getting more powerful. Suspension can now handle a variety of four-wheeler uses. There are even ATVs for kids.
To help you make the right decision on your next four-wheeler, we've put together a guide to the various types. There are four main categories, so read on to learn which one makes the most sense for you.
Engine Size Affects the Types of Four Wheelers
No matter which type of four-wheeler you need, the engine size matters. Engines on four-wheelers are measure in cubic centimeters (cc). Engines range from 50cc for the smallest youth ATVs to more than 1,000cc for the biggest side-by-sides.
Picking a four-wheeler with enough power for what you want to use it for makes a big difference. alternatively, you might want to choose the size of the engine based on speed or safety concerns. 
Four-wheelers come with either automatic or manual transmission. Your choice will depend on what you want to ride the ATV for, and how much control you need when negotiating tricky terrain.
Utility ATVs
The most common of the types of four wheelers is the utility ATV. This type is also sometimes called a UTV.
With engines between 800cc and more than 1,000cc, utility four-wheelers can handle just about any job. That's why they're popular with farmers, ranchers, and hunters. 
Ranchers and farmers are replacing horses with ATVs and using them to herd cattle. Hunters use them to get in and out of their hunting spots. And there are some electric utility four-wheelers on the market now to move around quietly.
Many UTVs have towing capabilities and places to store cargo on them. They can deal with pretty much any terrain. They have the speed to get where you need to go quickly, too.
Utility four-wheelers can seat 1 or 2 people. They're the most fun for hitting the trail for recreational riding if everyone wants to be their own driver.
For hardcore recreational users, they're not as good as a sport ATV because the suspension is shorter. This means you won't ride the trails as hard or fast as you would on a sport ATV.
For most jobs, though, a utility four-wheeler will suit most people. 
Sport ATVs
Sport ATVs are made for the hardcore trail rider. They are lighter and more responsive than utility four-wheelers. Their engines aren't as big.
Maxing out at about 700cc, sport ATVs have much better suspension than their utility cousins. The combination of engine size, top speeds, suspension, and weight means you can take a sport ATV anywhere. 
If you want to race or take on the jumps, you need a sport four-wheeler. You can also customize them with a wide range of after-market additions. 
Side-by-Side Four Wheelers
Built for multiple passengers and large cargo loads, side-by-side four-wheelers have large engines and performance similar to a sport ATV. They have great suspension, too. Engines on side-by-side four-wheelers are topping out above 1,000cc now.
Side-by-sides are also known as Rhinos or SxS. Families who want to hit the trail find side-by-sides the perfect choice. They're also starting to see use in a variety of other situations, including fire and rescue and military applications.
With the right registration, you can use them on highways in some communities. 
For hauling, carrying passengers, and their ability to go across all types of terrain, they're gaining popularity. 
Youth Four Wheelers
Four-wheelers for the kids range from 50cc to 125cc. They have weight limits for riders of about 100 pounds. They don't have much in the way of suspension either.
Basically, kids' four-wheelers are designed to get children out on the (smooth) trail safely. They don't go too fast and they're easy to drive. These four-wheelers have automatic transmissions or just 1 gear.
Don't expect your kids to tear after you on your 600cc sport ATV. But for learning how to ride and control a four-wheeler, these starter ATVs are perfect.
It's worth talking to someone who knows what they're talking about when buying a kids ATV. You can find a good range of kids' four-wheelers at a Yamaha dealer, for example. Check out your local shop to get expert information on the best bet for your kids' size, age, and needs.
Know Your Types of Four Wheelers
Knowing the different types of four wheelers is important before you make your purchase. Work out what you want to use it for.
Are you a hunter or farmer that needs a big, sturdy quad to get you around large areas? Are you a speed-freak adventurer that needs a four-wheeler that can handle bumps and jumps? Are you taking your family for a long ride in the woods and you need something big, strong, and comfy?
Make sure you think about engine size, too. You want an engine that can keep up with your riding style. Choose automatic transmission for ease or manual because you need that control.
Whatever your needs or preferences, there's something to fit. Four-wheelers have come a long way in recent years. The market has many manufacturers offering different variations to suit you.
If you like what you learned here, make sure to keep coming back to our blog. We cover everything to do with your motors. Cars, trucks, four-wheelers, RVs, and more.