The front-wheel hatchback of B class of Fiat Uno was introduced by FIAT company in March, 1983 in Geneva. Its emergence in the market promoted restoration of the positions lost by these car maker during an energy crisis of the 70th years. The model was a result of high financial investments in the history of the company and the expectations came true: Uno received great success in its segment and became really popular. During first years of its manufacturing every third car in Italian market was of this brand. "Number one" — Uno remained the most popular on the Apenninsky peninsula during more than decades. In total for years of release more than 8 million cars were sold.


In May, 1995 the production of Fiat Uno was stopped in Italy (it was replaced by inheritor – Fiat Punto) and moved to Poland Fiat-Polsca, to Turkish Tofas-Fiat and to Egyptian El nasr where the model is produced nowadays.
Besides in Brazilian Fiat Manufacturing Plant Fiat Mille Fire (export name Uno) is produced since 2004. This model is produced in Brasilia since 1984 and was upgraded 7 times already. Compact commercial cars Uno Furgao (Uno Van in Europe) with plastic plugs instead of side glasses are also produced there. Uno Van in before restyling configuration is produced in small lots in Poland. 1,2 L Uno Fire is manufactured in Argentina. The same model had been produced in SAR until 2005. The SKD of model is carried out in Pakistan
Absolutely new generation of Fiat Uno is expected to appear in 2009 in Italy.
The model is offered in 3-and 5-door body options. Uno keeps the angular exterior which it has got in far 80th years developed by ItalDesign; the coefficient of resistance of a body, by the way, made then 0,34. Nowadays it is a little more streamline, with the changed plastic facing of a radiator joint with a bumper. Dimensions of the car are 3692/1548/1445 mm at base of 2361 mm and a track of 1337/1357 mm. The clearance makes 150 mm.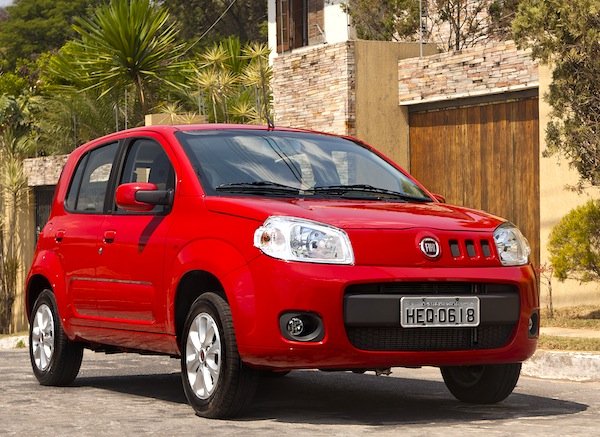 Modernized in 2004 salon is equipped by new convenient steering wheel and trimmed by modern high quality materials. Well thought over interior of the car leaves rather big space for feet, and the steering column is regulated on height. Standard configuration includes the power steering, the electroproofreader of headlights. Optionally the conditioner, the hatch, the electric drive of glasses and mirrors are available. The volume of a luggage compartment makes 290/968 L, and the loading capacity of the car is of 400 kg.
The basic complete set of the first models is equiped by engine of 0,903 L (45 h.p., the maximum speed of 140 km/h), similar to with what equipped Fiat 127 was used. In 1985 there was the motor of the new Fire series with a working volume of 0,999 L equipped with the central electronic injection of Magneti-Marelli and made on new automated technology on the robotized line. (55 h.p., 83 Nanometers) long enough installed this 4-cylinder 8-valvate petrol power unit on the Brazilian versions, since 2005 they consume only ethanol (66 h.p., 92 Nanometers), petrol motors in Brazil are laid off.
Besides, some other, more powerful petrol and diesel motors subsequently was applied. For example, the capacity of the 1,4 L petrol engine with an Uno Turbo model turbo-supercharging (years of release 1985-89) originally made 100 h.p., and since 1989 — 114 h.p. This car gathered speed more than 200 km/h, and dispersal time from a place to 100 km/h didn't exceed 8,3 seconds. In different years on model petrol engines of 0,9 L (45h.p. also were installed. ) 1,0 L (46 h.p.), 1,1 l (51-57 h.p.), 1,5 l (76 h.p.), diesel 1,7 L (58 h.p.), 1,9 L (60 h.p.) and turbodiesel of 1,4 L(72 h.p.). Uno with the l R4 8V 1,4 engine (71 h.p., 106 Nanometers) disperses to 100 km/h for 12,4 seconds, the maximum speed of 165 km/h, and a consumption of the 95th gasoline makes 9,4 L in city and 5,6 L on one hundred in a country cycle.
The model is equipped with 5-step manual gear box. Forward suspension bracket is independent with spring racks, triangular cross levers and the stabilizer of cross stability. Back semi-dependent bracket is with longitudinal levers, screw springs and telescopic shock-absorbers. Forward brakes are disk and rear ones are drum, ABS is available as an option. Standard size of tires is 145/80R13.
The main advantages of Fiat Uno are a practicality at good dynamic characteristics.


Review for gomotors.net
View Photos
View Videos