Ford Aerostar
Aerostar – is a minivan worth to occupy deserving place among cars of great demand in USA.
It was announced in 1986. It has a standard suspension bracket (the top and bottom levers) and the rack steering mechanism.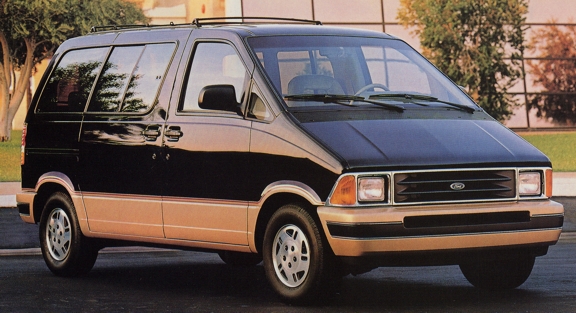 The interior is rather universal. Rear seats are easy removable and can be taken off in 5 minutes by one person. The interior is well equipped and has a nice trim. Passengers enjoy comfortable and spacious car saloon. Nevertheless you can notice the lack of electric adjustment of mirrors and glasses and seats heating. For comfort of the driver all switches and regulators are made with illumination, including a key of the lock of ignition. The lever of switching of the automatic gearbox is under a steering wheel. The driver and front passenger seats are high, soft with side support. Armrests are provided in the car and that is very convenient in a long journey. Behind there are 2 rows of removable seats — the first for 2 persons, the second for 3 persons. Anywhere in saloon there are various boxes, deepening and grids for things. Still there are sliding coasters and shelves for food on the way. For back passengers management of the receiver and heating is provided. They can leave the car through a lateral door. By the way, the back door opens up.
The car is equipped also by sound signal when opening the door in cases if an ignition key was left in the lock or you forgot to turn off the light.
The car is powered by 6-cylinder 3L engine of 140 hp. It has the bottom arrangement of a cam-shaft, the chain drive, hydrojacks and pushers of valves and is characterized by big fuel consumption - about 15-20 L per 100 km in the city and 11-12 L in highways.
Loading capacity of Aerostar makes 843 kg. The car is used as the individual and family transport containing from 4 to 7 passengers. In scale there are also versions with the extended base and eight-seat salon. Experts still highly appreciate Ford Aerostar because models are very comfortable and have high level on safety and securities of passengers and the driver in case of a head-on collision. The Aerostar models are equipped with ABS, have reliable brakes. Forward brakes are ventilated. Back ones are drum.
Comfortable Aerostar had being issued more than ten years; in 1997 it was finally brought out of the production program of Ford concern.

View Photos
View Videos