Volkswagen Scirocco 16v Reviews

Volkswagen Scirocco 16v
3-door hatchback Scirocco 16v sport car debuted in far 1974. The car replaced Karmann Ghia model. Scirocco was based on chassis A1 which was shared with Golgf and Jetta. Georgio Jordgaro from Italdesign Company participated in design elaboration. The car was named after warm Mediterranean wind arising on Sahara Desert open spaces. The scale of power units consisted of motors from 1,1 to 1,6 L (1,7 L in North America), all with one cam-shaft and two valves on the cylinder.
In 1982 second generation of Scirocco 16v was introduced. The model was improved and upgraded. Two years later Scirocco 16v got leather trimmed interior, electric window regulators and mirrors, the conditioner and the manual hatch on a roof. Model were so successful that held on on the conveyor till 1988 in the United States, 1989 in Canada, and 1992 in Germany. VW Corrado came to change of Scirocco.
VW made a pause of 16 years. In 2008 Scirocco 16v of the third generation was presented. Production was arranged at assembly Autoeuropa plant in Palmel, Portugal. Scirocco III is positioned as "an available sport car for every day". The extended roof, short cowl, narrow radiator lattice and impressive design of galogenovy headlights give Scirocco 16v extremely dynamic and stylish look. The design turned out to be rather bright and perceptible. Optionally the 3-door body can be decorated by transparent panoramic roof.
Car interior outstands by high quality of trim and convenience. Front seats can be regulated on height. Sport wheel is leather trimmed. Volkswagen Scirocco 16v is an absolutely completed car accommodating 4 people, two big man who take place on the back seats feel themselves comfortable. Taking into consideration that it is coupe of medium class there is enough space for keeping legs in the back of the car. Besides, extremely low seats allocation allows people with height of 190 cm to be placed without any problems: ceiling height from pillows of seats makes 94,8 cm in front and 92,3 cm behind. Thus front seats are equipped with the Easy Entry system shifting and returning chairs of the first row in a starting position for simplification of landing and disembarkation of back passengers. The luggage carrier of a car can't brag of the huge volume (292 liters), but at the put back seats it can be increased to 755 liters.
But the main mission of Scirocco 16v is to bring happiness from driving. The low center of gravity, broad gage, sports suspension bracket (McPherson racks in front, and four-lever behaind) are aimed at the maximum maneuverability. At desire it is possible to order an optional adaptive suspension bracket of DCC with electronic system of continuous regulation of rigidity of shock-absorbers which chooses the most suitable level of rigidity of shock-absorbers, based on quality of the road and traffic conditions.
Scirocco 16v is equiped by engines of 1,4 l of TSI with a power of 122 h.p., and also with a turbo-supercharging and the 160 h.p. supercharger. For those who enjoy power driving powerful 200 hp engine is presented. Motors work together with a six-step manual transmission. 140 and 170 h.p. two-liter turbodiesels are available in the Old World. It is expected that Scirocco in version R with the 275 h.p. engine will appear soon.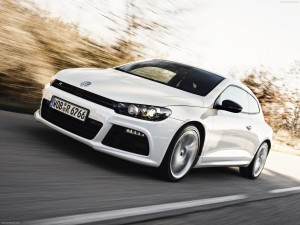 The car is equipped with various systems of safety (ESP, ABS, ASR, electronic system of blocking of differential, system of prevention car drifts) which provide the maximum traffic safety. Besides, the car is equipped with safety cushions of the forward passenger and the driver, forward lateral safety cushions and safety blinds for protection of the head in front and behind.
View Photos
View Videos