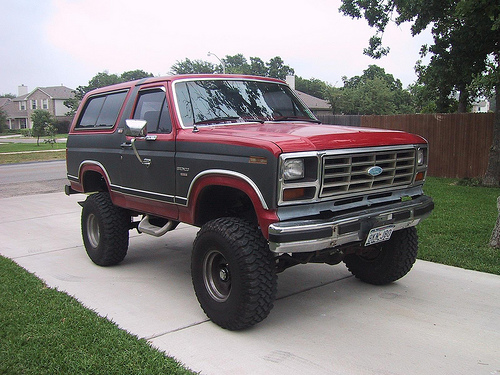 Bronco debuted in August, 1965. The car was offered in two configurations – wagon, half-cab and roadster. Roadster was not so popular and was laid off in 1968. It was convenient practical vehicle very simple by equipment without any luxuries but simultaneously very easy adapted to different kinds of activities.
Bronco was 6-celinder equipped with engine of 107 hp with 3-speed gearbox. Automatic gearbox was not provided even optionally. In 1966 18200 cars were sold.
During the next years the model was improved. In 1970 sport package became standard. In 1971 18700 cars were manufactured. By the time strong rivals appeared in auto market and in order to keep the position the Bronco model was modernized.
In 1973 automatic transmission and steering amplifier appeared, the capacity of base engine was increased to 3,3L. Diligence of experts of Ford weren't in vain, confirmation to that is the increase in sales to 26300 copies.
The energy crisis of the middle of the 70th played a fatal role in the history of Bronco. In 1977 production of the first Bronco was stopped, now the models of 1966-1977 are considered as classics.
In 1978 big Bronco appeared, it was very reminiscent to pickup F-150, produced by 1996. Full-sized (4510х1960х1860 mm) 3-door 6-seat universal Bronco of 1980with with a removable plastic roof in fact represented the all-wheel drive pickup with the truncated base. In its comparatively simple and robust construction belonging to trucks was guessed. Passability turned out to be quite high therefore the model remained popular for a long time. Customers were attracted by comfort elements, for example, the hydraulic booster of the steering, a steering column regulated on a tilt angle and system of maintenance of the set speed, not to mention powerful V8 engines in combination with three - and four-band automatic transmissions of Automatic Overdrive and Cruise-0-Matic. Fuel consumption makes about 20 liters on 100 km.
The Bronco interior is typical for big American cars — it is immense, but not without a share of a cosiness which create soft seats. The interior is trimmed by high-quality materials, and anatomic seats are supplied with adjustment on a tilt angle and height. The huge hanging dashboard, big "glove compartment", niches in the panel and the console. Heating at the expense of heat removal from the engine is very effective is provided even in the cheapest versions.
Power engines line included: basic carburetor 6-cylinder 4,9L engine; V8 — injector 150-power 4,9L and carburetor 210-power 5,8L (with the last fuel consumption reached 25 l / 100 km). Automobile was offered in several configurations: S, XL or XLT. In accordance with configuration it was equipped by 4 or 5-speed manual gearboxes.
In 1982 radiator facing was changed — it became entirely chrome plated.
In January 1983 compact SUV Bronco II was introduced. Its saloon of course smaller than the elder Bronco had but the style is identical. Chassis construction is frame, front suspension bracket is independent spring, the rear one is spring. The main engines for Bronco II are carburetor 2,8L and injector 2,9L V6 of 140hp. Fuel consumption is not much conceded to larger power units (to 19 L / 100 km). Besides, Bronco II can be equipped by 2,3L turbo diesel engine of 86hp with fuel consumption of 15L/100km. There are options with only rear wheel drive.
In 1988 the front part of Bronco II was upgraded but in 1990 more practical 5-door universal cars appeared. Возвращаясь к Bronco, отметим, что в 1984 году более серьезные изменения пришлись на оптику.
In 1992 restyling was made and Bronco II got widened list of configurations. New 4,9L injector V engine of 205 hp replaced 120hp engine.
By the end of 1993 the car was equipped by new 5,8L power unit of 208hp. In 1994 airbags were included in standard configuration.
And now after long interruption Bronco's life started again.
New Bronco concept was introduced in Detroit, by this concept car Ford company intended to remind the first models of the car: square shape, high and flat roof, roundish headlights and the car logo plate integrated into modern radiator grill. Despite bright underlining of the last heritage there are a lot of new interesting decisions in the concept car: usual headlights gave way to LED and the halogen light sources, 18 inch wheels with beautiful 6 spoke aluminum alloys and the roof divided into two parts. The simplicity of appearance of new model, has to serve its individualization in the numerous market of SUVs.
The interior is executed in monotonous color scale: warm gray tone and inclusion of aluminum inserts in a toolbar give the car modern shape. Seats of forward passengers are sheathed by suede with inclusions of leather of the same color. Under conservative concept wear modern transmission, 2L turbo diesel engine with intercooler (common rail Duratorq TDCi), 6-speed gearbox PowerShift and all-wheel drive with brand name 'Intelligent' are hidden. The gear box PowerShift with double clutch is able to forward by 450 Nm and it opens wide space for those who like tuning. The engine has power of 130hp and 330Nm at 1800 rpm. Such values are equally nice for driving in the city and moving off-road. The engine has two interesting additions. First, overboost — short-term increase in pressure of pressurization which raises a torque to 350 Nm. Secondly, a tank with nitrogen oxide and the corresponding red button, when pushing and holding this button, you can add 50 hp to the motor, and the car will speed up by 20 km/h.
Technical characteristics are: SUV with constant 4WD drive. Length of 4078mm. Width of 1861mm. Height of 1790mm. Wheel base of 2410mm.
In transfer from English "Bronco" means the wild, not trained horse.

View Photos
View Videos