Ford C-Max
Ford Focus C-MAX, produced since 2003 was created on the basis of Ford platform similar to Focus of second generation and Mazda 5. Engineers' task was to create the car that can unite multi-functionality, convenience, dynamic design and nice drive characteristics. Ford leader team positions C-Max as absolutely new type of automobiles – Multi Activity Vehicle (MAV). C-MAX obviously outpaced Focus by sizes – it is longer, wider and higher. Wheel base increased at 25 mm, and track at 40 mm.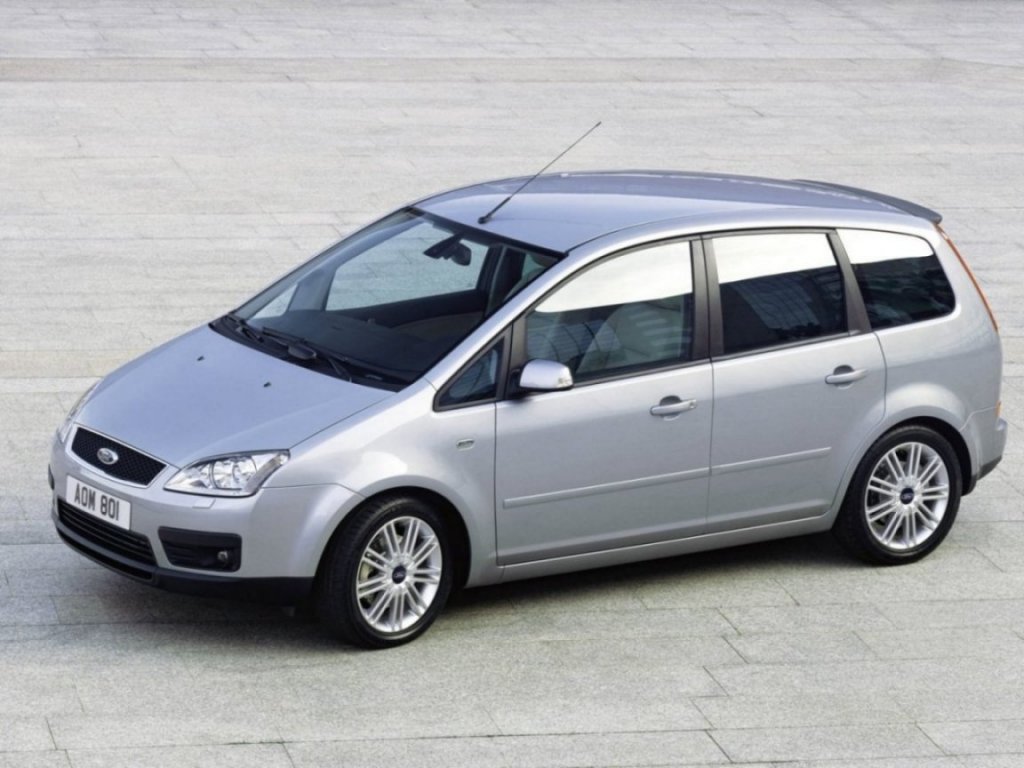 Designers say that C-Max is more smooth and soft version of New Edge. Prompt, but smooth lifting of the cowl, the inclined windshield, the sloping roof which is coming to an end with a spoiler, a convex back door, big vertical lamps in fodder racks – all this is very harmoniously combined. Coefficient of aerodynamic resistance of Cd=0,31. Optionally the sport package – original registration of an air inlet and a front grille, with moldings on each side, 18-inch cast disks with low-profile rubber - is offered.
The fact that founders relied not on a practicality, but on comfortableness is confirmed by that, without conceding on dimensions to many 7-seater minivans, C-Max accomodates only five people. Refusing from the third row of seats allowed to provide more than comfortable placement to back passengers. The system of transformation of back seats is standardly installed in Trend and Ghia complete sets. It makes easy to turn the central seat into a wide armrest — a little table with coasters, or push it in a luggage carrier, thus extreme seats move not only forward — back, but also to each other. The volume of a luggage carrier makes 582, and at the removed back seats — 1692 liters. There are about eleven different compartments for different load, including a glove box of 10,5 liter in the salon.
The separate attention is deserved by a place of the driver. High landing provides the excellent review, the steering column and a seat have very decent ranges of adjustments. Besides, the driver's seat is supplied with a leaning-back armrest. Optionally in Trend and Ghia versions it is possible to establish the general armrest, between seats moreover with two coasters and the additional compartment containing 12 cans on 0,33 liters or one 1,5-liter bottle and 9 cans.
One of the technical novelties is the video surveillance system behind salon — IRIS (Integrated Remote Imaging System). Being outside, the driver can see everything that occurs in car salon: it is very convenient, especially when there are children in the car. The camera transfers the image to the special PDA device.
The satellite Denso DVD system in which a full map of Europe and "the route guide", helping to choose an optimum way and avoid road jams, are loaded. Back seats passengers can enjoy viewing of the movie or play computer games, using multimedia system from Visteon Company (in head restraints of forward seats two screens are built in).
Petrol engines were installed under cowl – 1,6 (100 or 114 hp), 1.8 (125 hp), 2.0 (145hp). Turbo diesel motors were of 1,6 or 2.0 L with 90-136 hp. But such configurations were not supplied to Russian market. 4-speed automatic gear box was offered in pair with 2.0L petrol engine.
The car is equipped with parking brakes which automatically work when the car stops, and are disconnected at the time of motor start. There are also Brake assist, electronic system of distribution of brake forces and system of course stability in the list of systems of safety of ABS. Passive safety of C-MAX — is lobbies and side safety airbags, and also side curtains and three-point belts for all five passengers. Besides, the pedal knot at frontal blow develops, and the steering column drives off forward.
On January 13, 2004 Focus C-MAX was awarded with Automotive Design Award within the Bruxelles International Motor show for design in category of small functional cars.
The upgraded model was presented in 2007 on the Bologna motor show. The car not only received the updated appearance and an interior, but began to be positioned, as independent model, without Focus prefix in the name. Transformations of model were executed under the flag of new design idea of Kinetic Design, added to appearance of the car more bigger dynamism. For implementation of passive safety requirements of engineers front overhang was extended and the cowl was lifted. And when developing an interior the aims were to add hight, to increase salon space and to widen visibility.
The interior offers high quality trim and worth level of ergonomics. The steering wheel became more convenient (inflow in places of the constant grip), new door trim and new door handles appeared. There are more than ten different compartments for various load, the volume of a glove box — 10,5 liters in salon. The volume of a luggage carrier makes 582 liters. Among the expensive complete sets there is a possibility of transformation of back seats at which the average chair moves back, and lateral move to each other.
The car of the second generation was presented during the Frankfurt motor show on September 15, 2009. Appearance of iosis MAX concept is taken for a basis. The car will be the first of Ford model line constructed on the new global Ford platform of C segment, with the optimized design of a multilever back suspension bracket of "Control Blade" and semi-isolated by a forward stretcher.
Ford C-MAX 2010 received 5 stars on a rating of safety of the independent organization Euro NCAP. The car was awarded the appreciation for protection against traumas, which was appropriated for all history of the NCAP organization, and showed excellent safety of the driver and passengers, both adults, and children. C-MAX 2010 is equipped with intellectual system of protection of Ford (IPS) which unites a high-strength framework of a body with modern systems of deduction of the driver and passengers. 53% of a body of each car is made of high-strength steel. The similar characteristic of the model of previous generation was 45%.
Ultra strong steel is used in front and middle racks, side protective panels and amplifiers of doors. It promotes creation of a capsule of safety which optimizes deformation at collisions, including frontal and side crashes, and also side blows over column. Very strong two-phase steel is used in a forward zone of deformation, internal side panels and floor cross-pieces for the maximum absorption of energy of blow and management of deformation of a capsule of safety. C-MAX also contain a forward stretcher of the chassis, urged to separate at frontal blow a body bottom from the chassis and to reduce deformation of forward niches for feet.
Key feature of Ford intellectual system of protection is used in C-MAX — it is existence of individual one-stage frontal safety airbags and three-dimensional side safety airbags for protection of thoraxes of the driver and the forward passenger, and also side safety curtains established in the standard for protection of the people sitting on first and second row seats.
Safety of the driver increases thanks to the Ford steering column moved across which reduces loads of the head and a thorax by means of removal from the driver at frontal blows at high speeds. The Ford company also established more effective pre-tensioner of forward seat belts with the increased course of pulling up, and also tension limiters. All back seats of C-MAX are equipped with three-point seat belts, and side seats of the second row — ISOFIX fastenings.
The design of front part is also carefully optimized for improvement of protection of pedestrians. So there was a put system of screen wipers and the soft "fairing", reducing consequences of blow about the windshield basis.
View Photos
View Videos