BMW Z8 Alpina Roadster Reviews

BMW Z8 Alpina Roadster represents 2-seat sport car with aluminum body.
The prototype was introduced in autumn 1997 in Tokio. BMW serial model appeared in 2000. It is produced in small lots in Dingolfing and Munich plants.
The external design of the car reminds legendary model of the 1950th of BMW 507 created by count Albrecht Gerttsom: long cowl, big wheels. Work of the designer Henrika Fiskersa pays tribute to heritage of this sports car, and there is an aluminum frame under a beautiful covering from aluminum and carbon fiber panels which is as complicated as suspension brackets of many modern racing cars which provides high rates of rigidity of a body.
The quick-detachable aluminum roof, as well as the back panel in open option, are executed at the same time with back wings and "luggage carrier". During body transformation from a compartment in a roadster the back part of the car is replaced completely. Elements of the chassis are also executed from aluminum alloys, and bumpers — from polyurethane.
The idea of remake of the cars of the 50th-60th turned out to be won and attracted general interest. The idea of a remake of cars of fiftieth or sixtieth was safe and attracted to itself general interest. At the end of the century the mankind even more often looks back . Events of the middle of the century in big degree defined modern moods and in general - a condition of society. Therefore, no wonder, that designers address to images of those years more willingly. For the last 4 years we already became witnesses of "reincarnations" represented by concept cars of Renault Fifty popular once and Mini Cooper. And "newly been born" Volkswagen Beetle at all reached the conveyor. As well BMW Z8 Alpina Roadster is perceived, as, rethought decades later, model 507.
Their interrelation is emphasized deliberately by wide nostrils of air inlets, smooth contours of wings, a small tilt angle of a windshield, a wheel with the central nut and even a plafond of illumination of back registration plate. Revived in the Z3, M Roadster and M Coupe models, "gills" on forward wings are also inherited from 507. They are perfectly combined on BMW Z8 Alpina Roadster with narrow optics of repeaters of indexes of turn. And the steering wheel with spring spokes returns us during an era of the 30th. But BMW Z8 Alpina Roadster is not simply modern remake of the concrete car. The combination of classical elegance of Z8, its speed, controllability and modern technologies helps to create a modern legend.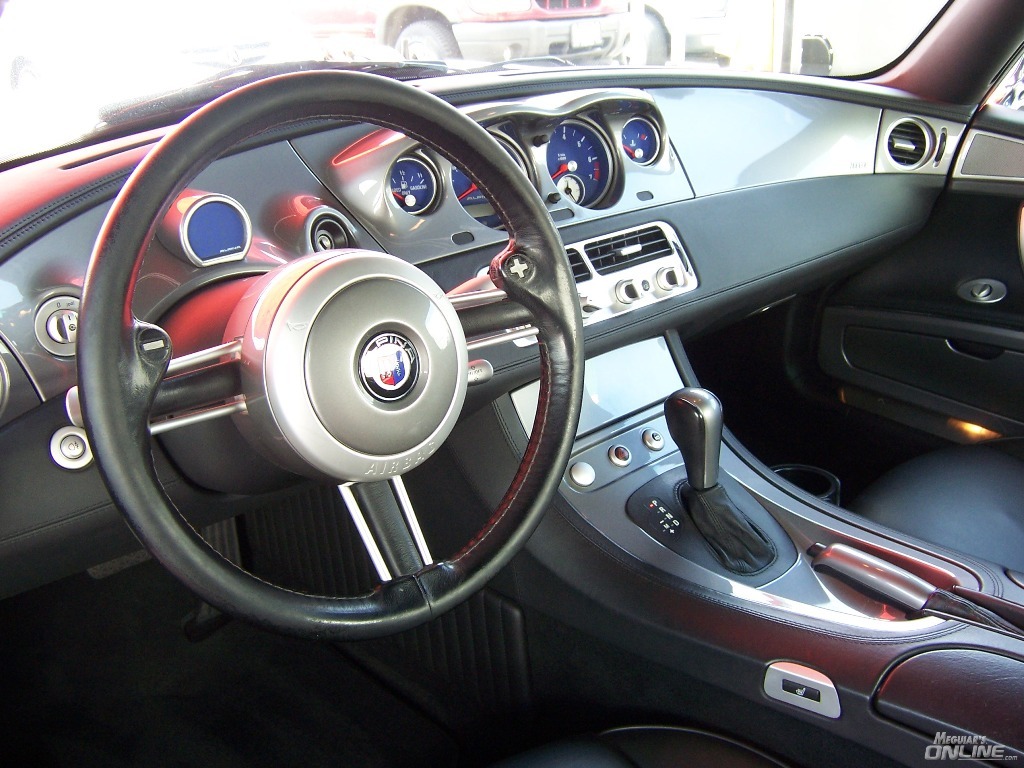 Bavarians relieved buyers of a headache connected with a choice of the additional equipment: it simply isn't provided. But the conditioner, the navigation system, high quality audio installation, traction control, system of dynamic stabilization of DSC III, lobbies and lateral safety cushions enter into standard equipment. Luggage carrier is tiny, its volume is only 205 liters. But after all Z8 is made to carry at all suitcases and bags with products! And two sets of sticks for golf will quite be located here.
BMW Z8 Alpina Roadster is equipped by V-shaped 8-cylender engine with work capacity of 5L and power of 400hp. Maximum torque makes 500 Nm at 6600 rpm. Having with a working volume of 5 l, this engine develops the power of 400 hp at 6600 rpm, the maximum torque makes 500 Nanometers. The high torque is reached, in particular, thanks to double system of gas distribution of VANOS and the separate butterfly valves which for the first time have received electronic control. Traction dynamic characteristics of the BMW Z8 Alpina Roadster model are provided with a six-speed transmission and system of dynamic control of stability of DSC III. Dispersal from 0 to 100 km/h takes less than 5 sec. To a full stop of BMW Z8 going at such speed, 2,5 sec. is enough. Tires are supplied with system of an emergency course.
According to Robb's report of 2001 BMW Z8 Alpina Roadster was announced the best car of the year. Such title is awarded anualy to cars worth over $40,000, design, style and technical equipment of which allow to put them on an equal basis with the best sports and representative cars of the world.
Review for gomotors.net