The 1965 CJ-5s were excellent for four wheeling and puttering around town or in the farm. On account of the deep equipment, 5.38s or 4.88s, they would not go faster than 50 miles per hour, or 55 if you shoved it. 45 was more acceptable. It took 5 years for Kaiser to acquire the CJ-5 to the finest state in 1970. Unfortunately, it took AMC to mend a number of the remaining problems, however at the same time shed some its finest qualities.
All it needed was an improved set of tires. In April or May of 1971, my Father traded it away on a new 1971 Chevy K-10, that we still have (although now it's a K-20).
In high-school and later (1979 84) I'd a 1966 CJ-5 quite much like our 1967. I discovered the T-86 3-speed did not endure much misuse and carve true down the parting line. It had other issues too because of abuse from past owners (and perhaps a bit from me). I was the owner of the Renegade, even though the first and second owners were buddies and also the second just possessed it for some months. It was absolutely bone stock once I purchased it and had less-than 50K miles on it.
I four-wheeled the Renegade fairly hard for a number of years and drove it-all over Colorado - - including trails and many rear highways. It's sat since, with work done in some places, but never ended. I regretfully sold the overdrive and also the Dana 18 T / C with an NV4500 which was never completed and strategies to update to an Atlas II. Currently the strategy would be to seek a great Dana 18 plus another Warn overdrive and to replace your most parts and body and use it like an occasional driver. It sits semi-mothballed within the garage.
Its been parked for some time following the rat's nest of wiring became a problem and also the back brake system went south. The strategy with this child now will getting it working well enough to offer it and finance the restoration to the Renegade.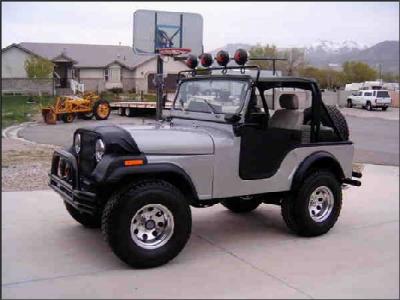 Regardless of the 4.88 gears many of them had, they got excellent mileage. My Renegade used to obtain almost 28 mpg featuring all-terrain radials, but nonetheless, it scarcely had great highway tires. It usually had severe off-road shoes. Just allow it to crawl!
I examined about every facet of the late sixties/70/71 CJs. The heaters worked nicely, shoved enough air through it, that was challenging and if you were able to seal off each of the leaks. The initial steering system was awful and tended to degrade fast. If you're not attentive you'd desire to change one lane, but could easily get a second or third. The bell crank must be reconstructed annually. An onepiece tie rod helped, but your best choice was a steering box-out of the Scout mounted with the steering shaft rather than the left front shock and also the shock went behind the axle. The springs were good for a hay wagon, but drooped flexed and little even less.
http://image.fourwheeler.com/f/10989042/129_0811_43_z ttc_1966_kaiser_jeep_cj5 steering_interior.jpg" />
My Renegade included the complete gauge choice that was really fine - - oil pressure, voltmeter and coolant temp. Woo-hoo! Just like you can hear it within the tire and flapping soft-top whine from mud tires and studs. Additionally, it came with a pleasant spare tire/fuel can carrier which was seemingly sourced from Bestop. I generally had the fill up from May - September, even in Colorado. I especially loved operating against the windshield down too, although not on the interstates. It had duplicate low-back bucket seats plus a rear seat which was simple to remove in addition to a factory roll bar. It even had...gasp... sun visors plus a padded dash. Even though it sported the little 10gallon "under the driver's seat" gas tank, it could go quite a ways without stopping on account of the great mpg. Just do not smoke for awhile after refueling and do not park it sideways on the hill together with the tank down.
Did not see just one snow plow. I'd left before it had been made by the snowplows that much. My only issue was I needed to make sure that it remains below 25 miles per hour to maintain the engine compartment from overheating the engine and packaging filled with snow. Let us just say I wasn't concerned about visitors.
Over these years many stranded motorists were pulled out by me with my Renegade. It was/is my favourite vehicle I have ever had... likely due more to the amazing memories than anything.
View Photos
View Videos