Police Swarm Abduction Suspect; Children Rescued
1051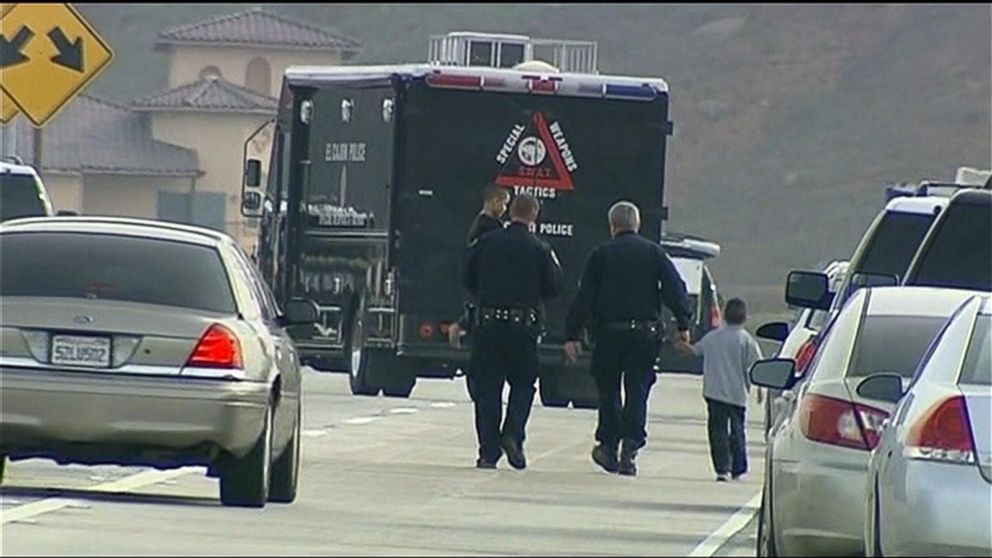 Police in San Diego swarmed a man wanted for questioning in his wife's disappearance and the abduction of their four sons as he stood near the edge of a soaring freeway overpass Thursday.
The dramatic arrest came after three days of intense search efforts to locate Daniel and Erica Perez, of Montebello, California, and their four sons, ages 6 to 11.
On an elevated overpass near the San Diego suburb of Santee, officers used two armored trucks to surround the vehicle. Daniel Perez then came out of his car, clutching one child while another walked behind.
He walked toward the edge of the freeway ramp railing, dangerously close to the drop-off onto the rocky ground roughly 200 feet below, California Highway Patrol Officer Kevin Pearlstein said.
"Immediately, when he stopped there, that's what we all said, 'You just don't stop right here unless you're thinking of jumping,'" Pearlstein said.
Officers shot Perez with a nonlethal bean bag and then tackled him.
All four children were rescued and not physically harmed, officers said.
Investigators found a Honda Accord belonging to the couple with the body of a dead woman in the trunk about a half-mile from their Montebello home, about 15 miles east of downtown Los Angeles, on Wednesday.
The body had not been identified Thursday. An official with the Los Angeles County coroner's office said no details could be released because the case is on a security hold by Montebello police. Police have identified Perez as a person of interest in the disappearance of his wife.
The California Highway Patrol issued an Amber Alert on Thursday stating the child had been "taken by their biological father." The alert identified the child as Jordan, 11, Jaiden, 9, Tristin, 8 and Alex, 6.
In a tearful press conference Wednesday night, relatives begged for the children to be brought back.
"You're breaking our heart," Pamela Valdez, the children's aunt, said. "Please don't hurt the kids, please."
The family had not been heard from since Friday, and neither adult had been answering their phone. Relatives told police the couple's marriage was unstable and that there was a history of domestic violence ? details investigators will continue to probe as they try to determine what led Perez to flee.
Thursday's pursuit began between 8 and 8:30 a.m. when police received a hit on a tracking device for stolen vehicles, CHP officer Tommy Doerr said.
Perez was driving 85 miles per hour during the pursuit.
"He wasn't completely reckless, but he wasn't stopping for red lights and sirens," Pearlstein said.
As the vehicle came to a stop, a line of CHP officers formed behind the suspect's black Toyota Camry. Two of the children escaped, running from the car.
As television helicopters swarmed overhead, one person in the vehicle stuck their hands out of the car. Several minutes later, a black armored vehicle drove up to the front of Perez's car while another armored truck closed in on him from the back. Perez emerged, a cell phone in hand, pressed to his ear.
"It looked like the kids were going to run back to the police, but their father was telling them not to," Montebello police Capt. Luis Lopez said.
'''
Armario reported from Los Angeles.
Read Source
More news from this source: